Voice Alert Secutity Monitors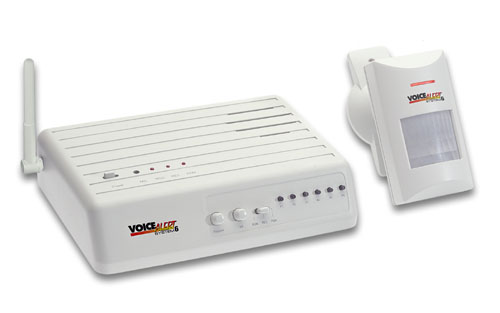 Voice Alert System-6 is ideal for residential and small business notification, security, and property protection.
Voice Alert System-6 combines wireless and digital voice technology to create the most flexible and cost-effective annunciation system available today. System-6 monitors up to six zones using wireless PIR Sensors/ Transmitters and a remote Receiver/Speaker Base Unit. When a zone is breached, a signal is sent up to 1000 feet (300' through walls) to the remote Base Unit. Upon signal reception, the Base Unit plays a user (voice-recorded) message identifying that specific zone. Voice Alert System-6 is an excellent plug and play solution for hard-to-wire areas. It also features multiple "C" relays enabling it to trigger additional devices or to integrate into a larger security or home automation system. Common applications include: Wireless Driveway Alarm, Perimeter Security, Customer and Visitor Notification, Customer Greeting, Child Safety, Pool Security, Delivery and Supply Room Monitoring, and Annunciation of activity at CCTV Camera.

Voice Alert VA6000R Receiver

SKU: VA6000R

Price: $89.95

FEATURES:

Monitors up to 6-Zones
Multiple "C" Relays
Audio Line Output Connection
Enable/Disable PIR Switch
Voice Warning for Low Battery

BENEFITS:

Customize Recorded Messages
Completely Wireless
Plug-and-Play Installation
False Alarm Deterrent
Flexible Set-Up
Notification in a Single Room or Entire Location
Simple to use
Voice Alert VA6000T Wireless Infrared Sensor

SKU: VA6000T

Price: $69.95

FEATURES:

Monitored range: 40' x 40' feet
Adjustable Beam
All-Weather Construction PIR
Adjustable PIR Mounting
Battery operated - 9V battery included
Solar Power option available
Voice Alert TXPCBB Sensor Transmitter

SKU: TXPCBB

Price: $69.95

Transmitter enables any type of "sensing device" with output closures to trigger user recorded messages on a Voice Alert base unit receiver/speaker. Now you can get wireless notification from devices such as smoke alarms, CO (carbon monoxide) sensors, window, gate or door contacts, push button devices, water level indicators, a vibration switch or pressure pads ... to name a few. You'll be instantly notified when an event occurs at the sensing device.
Voice Alert TXPCBB-V Vibration Sensor

SKU: TXPCBB-V

Price: $79.95

When the TXPCBB-V is bumped or moved it will trigger a signal that will activate a user recorded message from a Voice Alert receiver/speaker. Attach the TXPCBB-V to doors, windows, gates, fences, computers, inventory items, building materials, vehicles and more to be notified if movement occurs.
Driveway Signal Bell Hose

SKU: 494-500

Price: $1.28

Driveway signal bell hose

3/8" black rubber hose

Available in lengths up to 500'. Measure from bell location across drive area. No returns on cut items.

Don't forget the Hose Anchor!

Remember to enter the number of feet of hose in quantity box below.
Driveway Signal Bell Hose Anchor

SKU: BP-1520

Price: $27.65

Hose Anchor

Heavy Duty Cast Iron

Place at the end of driveway signal bell hose and anchor to the pavement. Plugs off the hose end for bell operation and keeps the hose where you want it. Comes with one hose clamp.
Driveway Signal Bell Hose Splicer

SKU: BP-1522

Price: $10.22

This hose splicer connects two ends of hose. Includes two clamps.
Driveway Signal Bell Hose Splitter ( Y Type)

SKU: BP-1521

Price: $20.90

This handy hose splitter lets you use a single bell or signal switch for multiple locations. Simply attach the single end so that it runs to the bell or signal switch. Attach the other ends to the hoses you want to get a signal on. Three of these can be used to get a signal at four different locations. This is a handy and inexpensive solution to a common problem.