GPI M-1115S AC Gear Pump Parts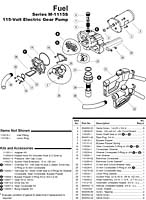 Download The Parts Manual
GPI 110504-1 Overhaul kit

SKU: 110504-1

Price: $51.00

Overhual Kit for M-150, M-180, M-240, M-1100 series pumps. Kit includes the following:

Motor Shaft seal
Strainer Cover o-ring
Gearplate cover o-ring
Bypass poppet o-ring
Switch plate cover o-ring
2 Gears
Drive Key
OPW RF-400 Manual Utility Nozzle

Price: $28.07

The OPW RF400 nozzle is designed for use in non retail, commercial, industrial and agriculture use where an automatic nozzle is not needed.
GPI 110909-1 Bung Adaptor Bushing Kit

SKU: 110909-1

Price: $27.60

Bung Adapter Kit includes 2 inch NPT bung adapter.
GPI 110100-1 Telescopic Suction Stub

SKU: 110100-1

Price: $33.10

Adjustable Suction Pipe, plastic, 22 to 40 in. (56 to 102 cm).
GPI 11081801 Security Collar - Aluminum

SKU: 11081801

Price: $41.60

Security Collar - Aluminum (Use with GPI M-150S, M-180S or M-1115S models with spin collar)
GPI 11080801 Plastic Security Collar

SKU: 11080801

Price: $23.10

Plastic Security Collar (Use with GPI M-150S, M-180S or M-1115S models with spin collar)