LiquiDynamics Tote Tank Systems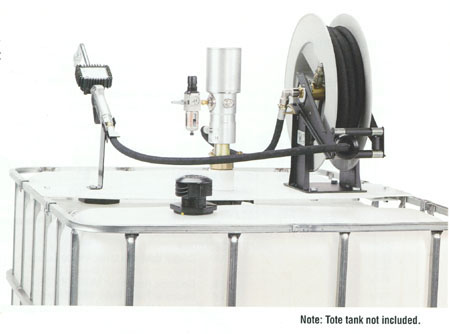 The Tote System is a convenient method of mounting transfer equipment onto IBC tote tanks. Steel mounting plate supports weight of pump, reel and meter, preventing damage to tank. Basic mounting plate kit is 40" wide and is provided with a versatile hold down bracket to fit most commonly used IBC tote tanks such as Clawson, Hoover and Greif.
Optional bulkhead fitting and vent cap kit allows equipment to be left in place while providing tank venting and refilling access.
LiquiDynamics IBC Tote Tank System

SKU: TO-27-R30-EN-Q-R-A-FR2

Price: $1,643.33


IBC Tote Tank Base System Shown includes the following features:

TO - Tote System
27 - 5:1 Pump kit to fit 44" deep Tote Tank, w/ Bung Adaptor.
R30 - 1/2" x 30' Hose Reel
EN - Electronic Non preset Meter (LQ-200)
Q - Quart Calibration
R - Rigid Discharge Spout
A - Automatic Discharge Tip
FR2 - Filter/Regulator Combo (150 psi)

Build your own Tote System using the options listed below: