Duro 2000 Compact Open Utility Reels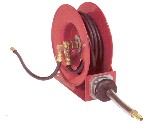 Heavy duty reels built to withstand the rugged service of all lube and service trucks. Heavy 11 gauge steel base supports the reel on both sides. Self aligning 1 1/4 bearings on both sides. Motor spring type cartridge makes for safe and easy replacement. Hose roller arm is supported on both sides and may be attached top or bottom. Base is designed for stacking reels one on another and secure with tie bar across top. Ceiling, wall or floor mounting.
MACHINE SHOPS
Size makes it ideal for mounting on or near machines for cleaning dust or clearing chips.
UNDER WORK BENCH
Factory production lines wherever air tools are used. Steps up production, saves time, labor and keeps area uncluttered.
MOUNT INSIDE CABINETS
Out of the way but ready for use in markets.
DIMENSIONS
Duro Series 2000 Utility Reels (Complete with Hose)

Price: $166.00

$152.00

Series 2000 Compact Utility Reel - 250 PSI
Size makes this reel ideal for mounting under work benches, in cabinets on or near machine shops or factory production lines. Wherever air tools are needed.
2050 COMPACT TRUCK REELS HEAVY DUTY
Perfect for small confined spaces on service trucks. Low, Medium and High Pressure reels for air, water, oils and chassis. Heavy fabricated steel base. Heavy solid spun steel disc with beaded edges for maximum hose protection, rotates on a bonze self-lubricating bearing fitted on a solid 1" diameter axle.
Updated 1/31/2017